Boomwhackers, on Stand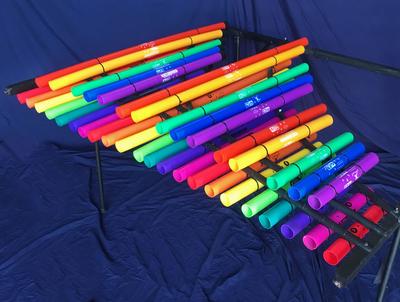 (Boom Whackers)
Mfg. by Rhythm Band Instruments
Price/Day $

75

Range

C2-C5
At the PASIC and NAMM conventions in the 1990s, founder Craig Ramsell spoke with Emil Richards about the chromatic set of Boomwhackers he had made, as previously he had only been making them in the diatonic scale. Emil would bring these Boomwhackers to recording sessions, in part to appease certain composers he was working with (who would call to ask if he had anything new and interesting to use on their upcoming scores).
The chromatic scale and western tuning was appealing to composers, as the Boomwhackers could then be incorporated into the traditional orchestra. As a percussionist, the keyboard layout was appealing to Emil, as it allowed him immediate fluency on the instrument.
Using xylophone mallets on them produces a definite pitch, while using yarn or vibe mallets creates a softer, resonant sound.